Read Time:
1 Minute, 37 Second
ABATE Campground Leesburg Bikefest
Leesburg Bikefest – April 28 – 30, 2023
Camp with ABATE and join the party, and best kept secret at Leesburg!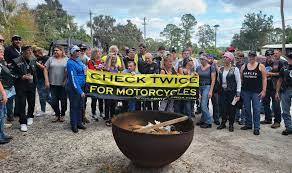 Lake County ABATE will be hosting the campground at the Eagles Aries this year for Leesburg Bikefest. If you haven't been there before, you should plan on it. If you're just coming for the day, you're still welcome to attend the shows, enjoy the full service out door Tiki Bar and Pavilion, Vendors, and the food the Eagles prepares. Not to mention all the great people.
Biker Classic Rock Radio will be handling the show again this year. We've been doing it since 2005. We'll arrange the live bands (TBA) for Wed, Thurs, and Fri, 8:00 PM – Midnight. From Noon till the Tike Bar closes, we'll DJ the best Classic Rock Hits from out station library. Yep, that's about 16 hours a day! We'll mix in some country and other stuff but our specialty is Classic Rock.
Entertainment Schedule:
Thursday, April 27:
BCRR Classic Rock DJ, Noon until the Tiki Bar closes
8:00 – Midnight – Live Band TBA
Friday, April 28:
BCCR Classic Rock DJ Noon until the Tiki Bar closes
8:00 – Midnight – Boneyard Band
Saturday, April 28:
BCRR Classic Rock DJ Noon until the Tiki Bar closes
8:00 – Midnight – Pete Hunt & Southern Branded Band
Lake County ABATE runs a secure and organized place. They monitor people entering the campground ensuring they belong there, provide 24/7 security, and some great activities. The rates are reasonable, (check the flyer) and people are friendly. Everyone has a good time. The Tiki area and Pavilion are separate from the campground so if you don't camp, you can still join us.
Directions:
Eagles Aries #4273
27150 Haywood Worm Farm Road
Okahumpka, FL 34762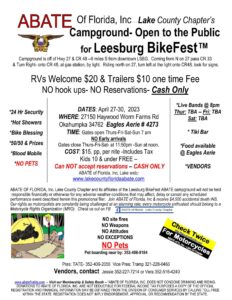 More information will be added as it becomes available. Hope to see you there!