Read Time:
4 Minute, 59 Second
From Their Early Beginnings to Their Iconic Hits – Discover the Rolling Stones' Impact on Rock and Roll History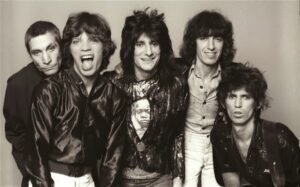 The Rolling Stones are one of the most influential rock bands of all time, with a career spanning over six decades. They have produced countless hits, sold over 200 million records worldwide, and have been inducted into the Rock and Roll Hall of Fame. In this article, we will delve into the history of The Rolling Stones, from their formation to their present-day accomplishments.
Formation and Early Years (1962-1964)
The Rolling Stones were formed in London in 1962 by guitarist Brian Jones, pianist Ian Stewart, vocalist Mick Jagger, and guitarist Keith Richards. Bassist Bill Wyman and drummer Charlie Watts joined the band soon after. Their early music was heavily influenced by American blues and rock and roll, and their early live performances were known for their high energy and raw sound.
In 1963, The Rolling Stones released their first single, a cover of Chuck Berry's "Come On," which reached number 21 on the UK charts. The following year, they released their first album, "The Rolling Stones," which included covers of blues songs by Muddy Waters and Willie Dixon. Despite its lack of commercial success, the album established the band's sound and style.
Breakthrough and Controversy (1965-1967)
In 1965, The Rolling Stones released their breakthrough hit single, "(I Can't Get No) Satisfaction," which reached number one on the charts in both the UK and the US. The song's sexually charged lyrics and infectious guitar riff made it an instant classic, and it propelled the band to global fame.
The following years saw The Rolling Stones continue to produce hits, including "Get Off of My Cloud," "Paint It Black," and "Ruby Tuesday." However, they also faced controversy due to their rebellious image and explicit lyrics. In 1967, their single "Let's Spend the Night Together" was banned by the BBC for its sexual content.
Experiments and Tragedy (1968-1971)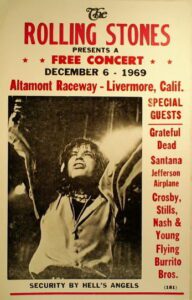 In the late 1960s, The Rolling Stones began experimenting with different musical styles, incorporating elements of psychedelia and country into their music. Their album "Beggars Banquet" (1968) marked a return to their blues roots, and included hits like "Street Fighting Man" and "Sympathy for the Devil."
However, this period was also marked by tragedy. In 1969, Brian Jones left the band and was later found dead in his swimming pool. His death was ruled as "death by misadventure." The band continued as a quartet, and in 1971, they released their landmark album "Sticky Fingers," which included hits like "Brown Sugar" and "Wild Horses."
Altamont Free Concert in 1969
One incident that has become synonymous with The Rolling Stones is the Altamont Free Concert in 1969. The concert, which was intended to be a West Coast version of Woodstock, quickly turned into a disaster. The Hells Angels were hired as security, but they quickly became aggressive and violent, attacking concertgoers and even killing a man named Meredith Hunter. The Rolling Stones were unaware of the extent of the violence until after their performance, but the incident left a dark cloud over their legacy. The Altamont Free Concert has since been seen as a cautionary tale about the dangers of unregulated events and the consequences of hiring unprofessional security.
Mega-Stardom and Turmoil (1972-1981)
The 1970s saw The Rolling Stones achieve mega-stardom with their highly successful tours and albums. Their 1972 tour of the US, dubbed the "Stones Touring Party," was one of the most successful tours of all time, grossing over $1.5 million. They continued to produce hit albums like "Exile on Main St." (1972), "Goats Head Soup" (1973), and "Some Girls" (1978).
However, this period was also marked by turmoil within the band. Keith Richards struggled with drug addiction, and Mick Jagger pursued a solo career. In 1978, the band faced a major setback when Richards was arrested in Toronto for heroin possession. He was eventually sentenced to probation and community service.
Resurgence and Legacy (1982-Present)
In the 1980s, The Rolling Stones experienced a resurgence in popularity with the release of their album "Tattoo You" (1981), which included hits like "
"Start Me Up" and "Waiting on a Friend." They continued to tour extensively throughout the decade, including their highly successful "Steel Wheels" tour in 1989.
The Rolling Stones continued to produce new music in the 1990s and 2000s, with albums like "Voodoo Lounge" (1994), "Bridges to Babylon" (1997), and "A Bigger Bang" (2005). They also collaborated with other artists, including Aerosmith, Bob Dylan, and Lady Gaga.
Despite their longevity, The Rolling Stones have faced criticism and controversy throughout their career. They have been accused of exploiting black music and culture, and their music has been banned in some countries due to its explicit content. However, they have also been praised for their contributions to rock and roll and their influence on subsequent generations of musicians.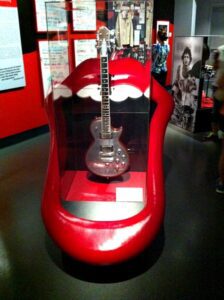 Throughout their career, The Rolling Stones have produced countless hits and iconic songs. Some of their best-known songs include "Gimme Shelter," "Jumpin' Jack Flash," "Honky Tonk Women," and "Start Me Up." They have also released numerous hit albums, including "Their Satanic Majesties Request" (1967), "Let It Bleed" (1969), and "Tattoo You" (1981).
Additional Accomplishments
In addition to their musical accomplishments, The Rolling Stones have also been recognized for their cultural impact. They were inducted into the Rock and Roll Hall of Fame in 1989, and Mick Jagger was knighted by Queen Elizabeth II in 2003. They continue to tour and perform, and their concerts are still highly sought after by fans around the world.
In conclusion, The Rolling Stones are a legendary rock band with a career spanning over six decades. They have faced controversy and criticism throughout their career, but they have also produced some of the most iconic and influential music of all time. Their impact on rock and roll and popular culture cannot be overstated, and they will undoubtedly continue to be celebrated for years to come.