Read Time:
3 Minute, 30 Second
CBGB's – the History, Bands, and Legacy of the Iconic Venue on New York City's Bowery
CBGB's, the legendary music club located at 315 Bowery in New York City, has a rich and storied history. Founded in 1973 by Hilly Kristal, the venue became known for hosting punk rock and new wave bands in the 1970s and 1980s and was a central hub for the burgeoning New York punk scene.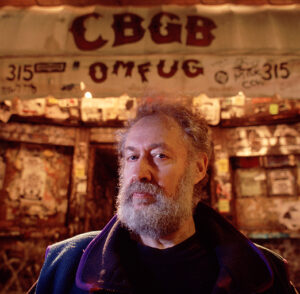 Kristal, a former musician who had previously owned a bar in New York's Greenwich Village, initially opened the venue as a place for country, bluegrass, and blues bands to play. However, he quickly found that the genre was not as popular in New York as he had hoped. Instead, the club began booking more diverse acts, including punk and new wave bands.
Earliest Acts
Some of the earliest and most notable acts to play at CBGB's included The Ramones, Blondie, and Talking Heads. These bands helped establish the club's reputation as a center of the punk and new wave scene in New York. This inspired countless other musicians to pick up instruments and start their own bands.
Under Kristal's management, CBGB's became known for its distinctive atmosphere and décor. The club's walls were covered in graffiti and band stickers, and the bathroom famously featured a sticker-covered toilet that became an iconic symbol of the club. CBGB's venue's rough, DIY aesthetic  emphasis on underground music helped set it apart from more mainstream clubs in New York, attracted a dedicated following of fans and musicians.
Despite its popularity, CBGB's faced financial struggles throughout its existence. In the late 1970s and early 1980s, the club was threatened with closure due to rising rent costs and legal issues. However, a dedicated group of musicians and fans rallied around the venue and helped raise funds to keep it open.
In the decades that followed, CBGB's continued to serve as a hub for the New York punk scene. They hosted countless bands and inspiring generations of musicians. The club also played a significant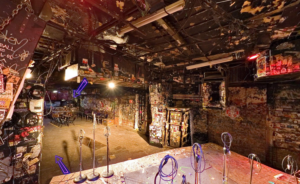 role in the development of other musical genres, including new wave and alternative rock.
Throughout its history, CBGB's hosted a wide range of bands, from established acts to up-and-coming musicians. Some of the most notable groups to play at the club include The Patti Smith Group, The Misfits, The B-52s, The Dead Boys, The Heartbreakers, and The Dictators.
Activism
In addition to its role as a music venue, CBGB's also served as a platform for social and political activism. The club hosted benefit concerts and fundraisers for a variety of causes, including AIDS research, animal rights, and women's rights.
Despite its iconic status, CBGB's was forced to close its doors for good in 2005. Kristal had been unable to secure a new lease for the property, and the club's closure was met with widespread sadness and mourning from fans and musicians alike.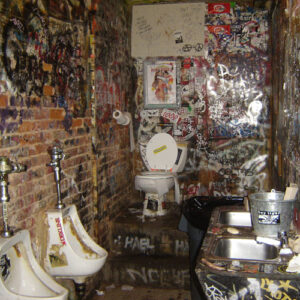 Today, CBGB's legacy lives on through the music and memories of those who played and attended shows there. The venue's influence can be seen in the countless punk and new wave bands that emerged from the New York scene. As well, there is an ongoing efforts to preserve its history and legacy. 
Recent Events
During recent years, there have been several attempts to revive CBGB's or create a new iteration of the club. In 2013, a CBGB Festival was held in New York, featuring a variety of music acts and events. In 2017, a CBGB-branded restaurant and bar opened in the Newark Liberty International Airport in New Jersey, although it was criticized by some for its commercialization of the club's legacy.
Hilly Kristal was posthumously inducted into the Rock and Roll Hall of Fame in 2006, a year after his death. The induction recognized Kristal's role as the founder and owner of CBGB's, which served as a launching pad for countless punk and new wave bands and helped shape the course of rock music history. Kristal's induction was a testament to his impact on the music world and his legacy as a champion of underground and alternative music.
If you find this article interesting, watch the CBGB's Movie on Amazon Prime. It's well done and entertaining!